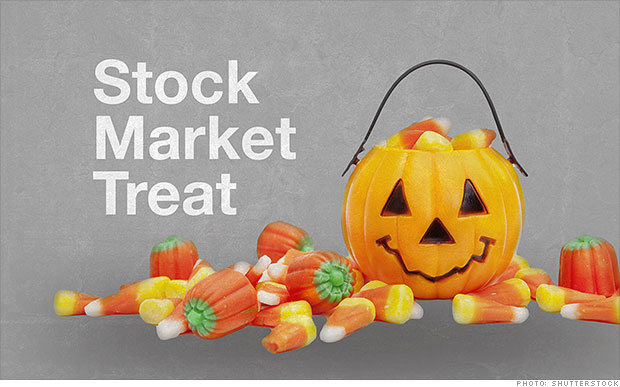 If you exited the stock market earlier this month, you sure have something to "boo" about this Halloween.
October turned out to be a nice treat for investors. Those who stayed in are having an extra Happy Halloween.
The SP 500 is on track to end the month about 1% higher. The Nasdaq is up 1.5% and the Dow is up 0.9% after another dramatic 221 point gain Thursday.
No, October won't be the best month of the year. But those are solid gains.
And we might not be done yet. According to CNNMoney's survey of investment strategists, the SP 500 should end the year a tad over 2,000. The index is close to that level, but not there yet.
Related: Experts say stocks will rise more in 2014
So what drove the big turnaround? It's pretty straightforward: earnings, earnings, earnings.
Investors like when companies beat on earnings, sales and profits, and by and large, that's what the market is getting. Over 75% of companies in the SP 500 that have reported earnings so far have beaten analysts' estimates, according to SP Capital IQ.
Businesses also give a sense of what they expect in the months ahead. Again, with a couple of notable exceptions such as IBM (IBM, Tech30) and Amazon (AMZN, Tech30), the outlook isn't looking
Article source: http://rss.cnn.com/~r/rss/money_latest/~3/S68q7ncbVZw/index.html