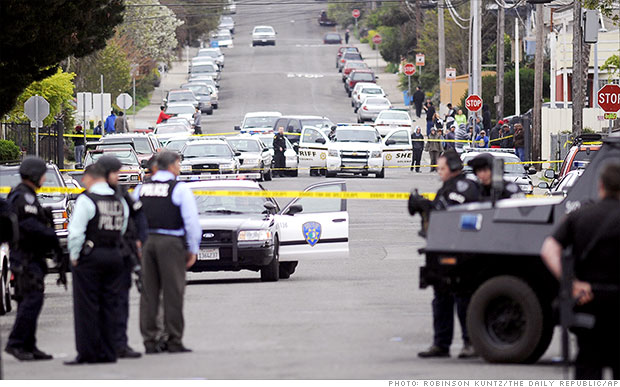 The Vallejo police force, shown at a crime scene last year, remains "woefully understaffed" several years after bankruptcy, according to City Manager Dan Keen.
The California city of Vallejo emerged from bankruptcy just over two years ago, but it is still struggling to pay its bills.
The main culprit: Ballooning pension costs, which will hit more than $14 million this year, a nearly 40% increase from two years ago.
Amid threats of legal action from the state's pension giant, CalPERS, Vallejo did little during its nearly three-year stint in bankruptcy to stem the growth in its pension bills.
As a result, Vallejo continues to dole out large sums of money for retirees. Except for new hires, Vallejo's police and firefighters can retire at age 50 with as much as 90% of their salary —
Article source: http://rss.cnn.com/~r/rss/money_latest/~3/LLiwjsTNZsk/index.html