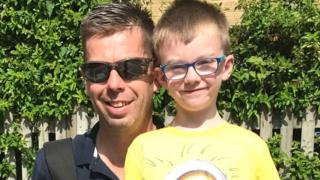 A six-year-old boy has gone to the site of the Grenfell Tower fire to donate his pocket money, saying he felt "sad" for the people who had lived there.
Alfie Lindsey visited the west London estate to donate his superhero-themed tin filled with up to £70 in cash.
Alfie's dad Arthur said his son wanted to help after watching news about the tragedy on television.
He handed the money over to the Bishop of Kensington, Graham Tomlin, who said the gesture was "absolutely amazing".
'Little bit worried'
"He brought out of his bag this tin… and I said, 'have you been collecting?'
Article source: http://world.einnews.com/article/387539297/dH9NozHFMPOaG9hu?ref=rss&ecode=dYZEnKEuqPQMTccj