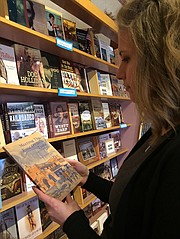 A Billy the Kid cookbook.
A cat-face, hooked rug holiday pillow.
An old-fashioned tin Jell-O mold.
These unusual, specialty items and much, much more can be found in a select group of mostly volunteer-operated boutiques and thrift stores that many residents and newcomers don't know exist. The good news is that once people discover that the proceeds from sales in these quaint spots is tax free and benefits non-profit organizations, they tend to come back.
Let's start with the Sharlot Hall Museum on West Gurley Street.
Beyond the preservation of local history on its campus of historic buildings and exhibits, including the first Territorial governor's mansion, Sharlot Hall's cadre of volunteers run a gift shop in the restored 140-year-old home that once belonged to a frontier businessman, William C. Bashford, son of Arizona's first lawyer, Coles Bashford.
The Victorian house with its stained glass front doors, solarium and decorative fireplace is divided into specialty rooms, one of them stocked with books that tell tales of Prescott's early years as well as offer insights
Article source: http://world.einnews.com/article/421710579/CSLKXRAAA-UsE-Ia?ref=rss&ecode=dYZEnKEuqPQMTccj