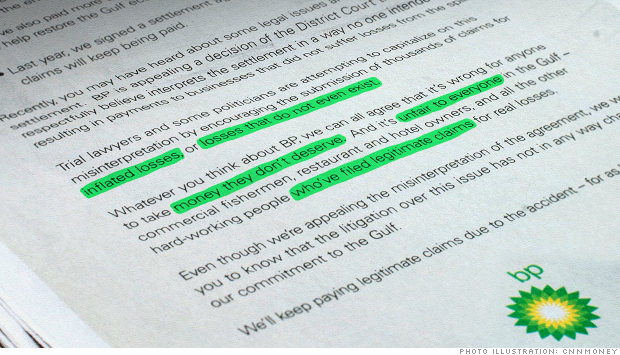 BP is on a offshoot for billions in claims for a Gulf of Mexico oil brief — yet now it's fighting many claims that it says are 'inflated' or 'do not even exist.'
To make a case, BP placed full-page ads in a Wall Street Journal, a New York Times and a Washington Post on Wednesday.
"Whatever we consider about BP, we can all determine that it's wrong for anyone to take income they don't deserve," settled a ad.
BP (BP) has paid out some-more than $42 billion in fines, clean-up costs and remuneration ensuing from a massive 2010 spill, caused by an blast that killed 11 oil workers. Millions of barrels of oil spilled into a Gulf and crippled businesses.
BP has also been promulgation letters to lawyers warning that clients who accept remuneration formed on extreme or fake claims will have to compensate a income behind if a association is successful in a justice interest on Jul 8.
BP has been operative for a past few months to retrieve remuneration payments that it has dubbed "illogical and absurd", observant a claims director is misinterpreting a allotment agreement.
In one instance, BP authorised papers uncover a association paid $21 million to a rice indent in Louisiana that was 40 miles from a coast, even yet a indent reported aloft income in a oil brief year contra a three
Article source: http://rss.cnn.com/~r/rss/money_latest/~3/MUakApJAbdg/index.html